Rank No.6

Millionaire's Club by Patti Stanger is a "perfect match" dating website focused on bringing together millionaire singles.  Stanger is an established TV and media star and founded Millionaire's Club, using her 30 years of relationship expertise to create a new matchmaking service.  Patti claims a 99 percent success rate in finding matches coming from a large pool of singles and also the help of dating coaches and professional stylists.  Impressions are everything and that's why this is probably the most competitive packing anywhere online, given how much personal attention the company gives you and your quest to find a compatible mate.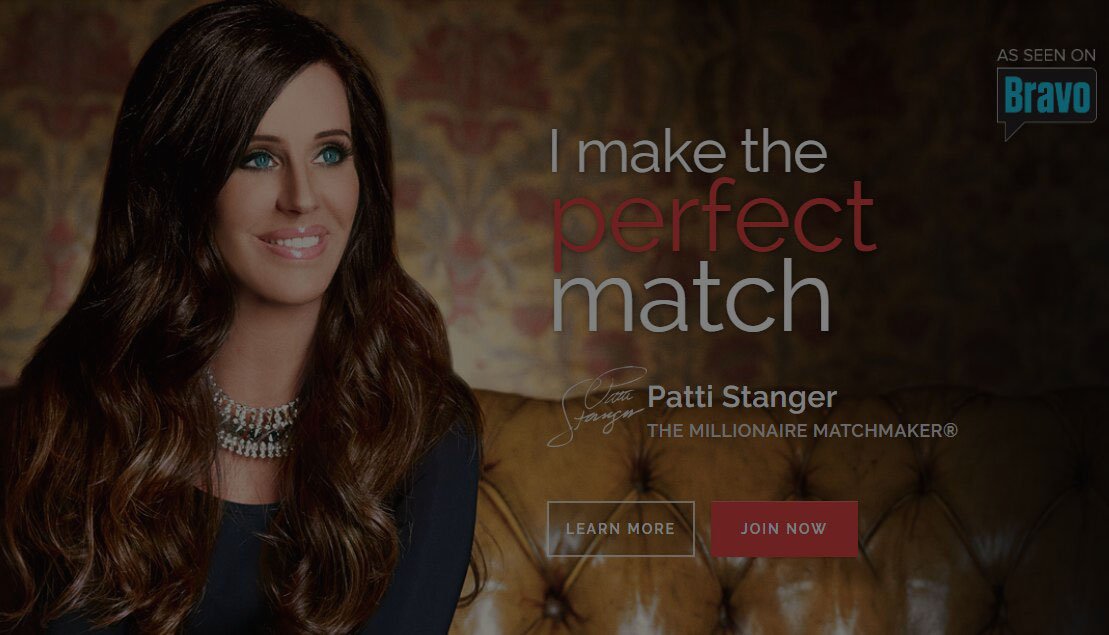 Popularity
The site is one of the oldest on the Internet, dating back to the year 2000.  Because of the high caliber of service, the database is limited to about 30,000-100,000 people from around the world who can afford the costly service which has an unparalleled commitment to customization and personal matching.
Design and Features (App iOS Android)
There is not a typical Tinder-like dating service.  There is a five-step process of filling out an application, having a personal session with a matchmaker, working with a team of dating consultants (to make sure you're making all the right moves), then the matching process (where you get sent possible matches) and finally the date, which includes detailed feedback on what went right and wrong.
The trained staff of dating experts follows up each chat and date.  You're actually working with psychologists, relationship counselors, hypnotherapists, image consultants and dating coaches.  Even personal trainers and hairstylists are available.
Membership Fee and Prices
There are four membership packages available.  Bronze costs $45,000 for one year of dating, one hour of counseling, and additional information.  Silver costs $65,000 and offers a consultation with an image consultant and one hypnotherapy session for working on your approach.  Gold membership costs $85,000 and includes one hour of counseling with Patti herself, as well as another appearance in which she introduces you to your date.  Finally, the Platinum membership costs $100,000 for various international add on features, including a "mixer event" which is like a speed dating experience, except more customized to your needs.
Demographics
Naturally, most users will not use this dating service, as it's not just a simple app or matchmaking website, but a customized dating service.  The demographic is certainly "millionaire" status, although you do not have to be a millionaire to buy a package.  With Patti's access to personal trainers, dentists, and even plastic surgeons, she practically guarantees you a match, as long as you're willing to work with her team of experts.
Editor's Note
This is a very unique variation on the dating matchmaking service.  If money is not an issue, but quality matters, this is the best available package on the Internet dating scene.  However, Patti's real market is actually in sex therapy, dating coaching, and surrogate counseling because her criteria really go above and beyond that offered by matchmaking companies.  Her prices are comparable to a year's worth of dating/sex therapy, however, so for someone who is looking for the "perfect mate", this is a great opportunity.
Voted "Best of the Web" by Forbes.com.
"MillionaireMatch.com highlights the 'millionaires' in its listings" by Wall Street Journal.
AS SEEN ON